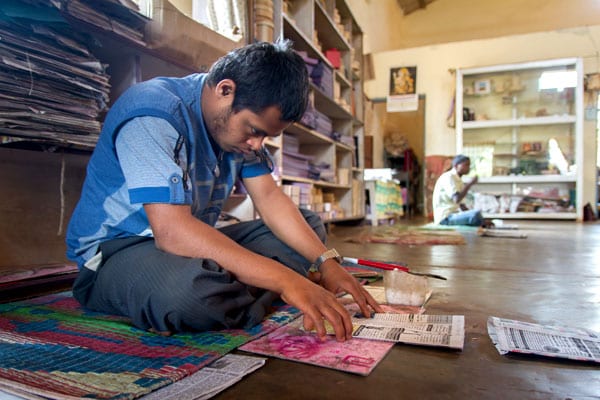 Mala Giridhar and her husband, who are both clinical psychologists, started a crafts business called Chetana in order to help provide opportunities for people with mental disabilities.
They saw the importance of giving those with mental disabilities—who are already stigmatized in Indian society—an opportunity to engage in meaningful activity. They also saw the improvements to emotional and physical health that those with disabilities derived from social interaction and from having a day-to-day routine.
In 2009, Chetana won a TechnoServe business plan competition in southern India. In addition to 200 hours of training, Mala and Chetana were also one of five business plans selected for an award of $5000 in seed capital. Mala used this capital to invest in a new workshop and put her business plan into action.
Today, Chetana employs 20 people in their well-lit workshop and an additional 40 women who work from home. Chetana has also expanded its product offerings from paper packets and pens to a variety of crafts produced from recycled banana fiber.
Mala attributes a good deal of Chetana's success to the training she received thanks to TechnoServe: "We wanted to do business and generate revenue so we could create employment opportunities for these people, but we didn't know how," she explains. "That training program definitely gave me an idea about the different aspects of a business, right from conceptualizing the idea up to generating revenue. Everything was covered in detail."
Thanks to Chetana and TechnoServe, people like Kiran, a 23-year-old with Down syndrome, are practicing skills, earning an income, and gaining a sense of independence. Before Chetana, Kiran might have been stuck at home. Today, by carefully applying paste and creating folds in a sheet of paper, Kiran is crafting small pouches to be sold in a local hospital.
Mala sees continued growth for Chetana in the future. Her hope is that within the next four years she will be able to provide jobs for 100 people, including 50 people with disabilities. She knows that in order to achieve the impact that is her main goal, she needs the business skills and savvy she learned from TechnoServe.
Running Chetana as a business has given opportunities for Chetana's employees to enjoy their success: "Today, they share the thrill of a new product," Mala says. "They share the completion of a big order. We go out together and celebrate when we have passed certain milestones. And then, there is no limit to their growth. They become part of something much bigger."
Read more about TechnoServe's work with Chetana here, and support TechnoServe by adding the Poverty Fund to your Bright Funds portfolio today.